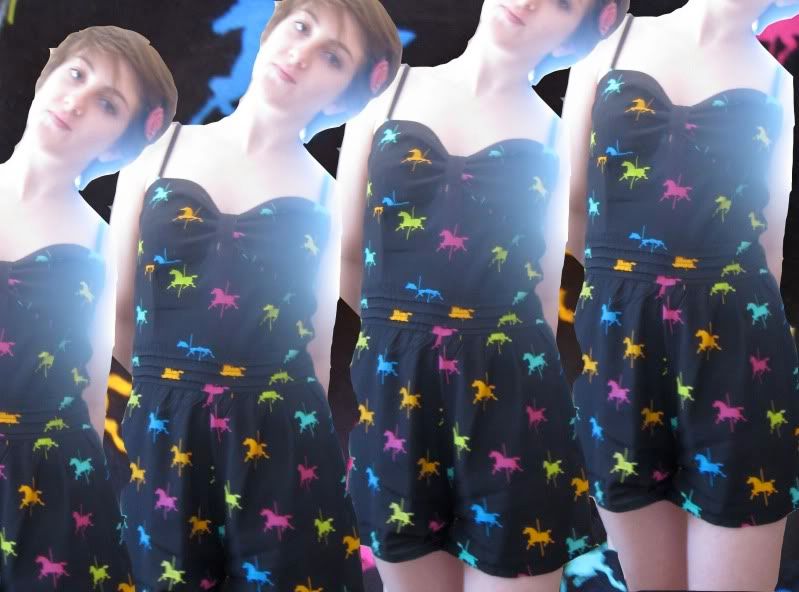 Bay Trading Company was one of those shops that I used to visit religiously when I was about 14, searching for the perfect off-the-shoulder gypsy top, to go with my trendily distressed jeans. (Oh god... I promise to NEVER mention this style phase EVER again)
It pretty much disappeared off my radar until last week when I decided to take a look around. Yep, I was avoiding work and hadn't been shopping for
weeks
. Anyway, I found myself pleasantly surprised because everything was quite...me. I suppose I should have noticed the warning signs that I clearly want to dress like Bay Trading's target market - 14 year old girls - but decided to persevere.
Lucky thing that, because I've found myself the most perfect little playsuit. I know I'm copping out by going for black (it's SUMMER now. I keep reminding myself. Trust me, there are post it notes involved!) Adorable merry-go-round horses I thought, no? PLUS they give 15% student discount!
Unfortunately Bay has now gone into administration so all the cheapy topshop knockoffs will soon be dust. Maybe they'll do a zavvi-style closing down period?
CHEERS, CREDIT CRUNCH!