I realised I never do outfit posts so here is a selection from the last few weeks. When I'm not wearing this stuff I'm normally wearing pyjamas. I love being a student.
p.s. I WILL clean my mirror!
I wore this: to Narcissists. It's a very slutty dress and I probably should have buttoned the lace shirt up. But it's see through, so it probably would have just made it worse!
Dress - Smack, Urban Outfitters. (intended as underwear?)
Shirt - Topshop Unique
Shoes - Kurt Geiger
Hair bow - myself.
I wore this: around town, dropping into (and quickly out of) the library and grabbing some shopping from Tesco.
Jacket - Tux Deluxe at Topshop
Die Yuppie Scum T shirt - Urban Outfitters
Skirt - stolen from a friend
Boots - Vintage from Hurwendeki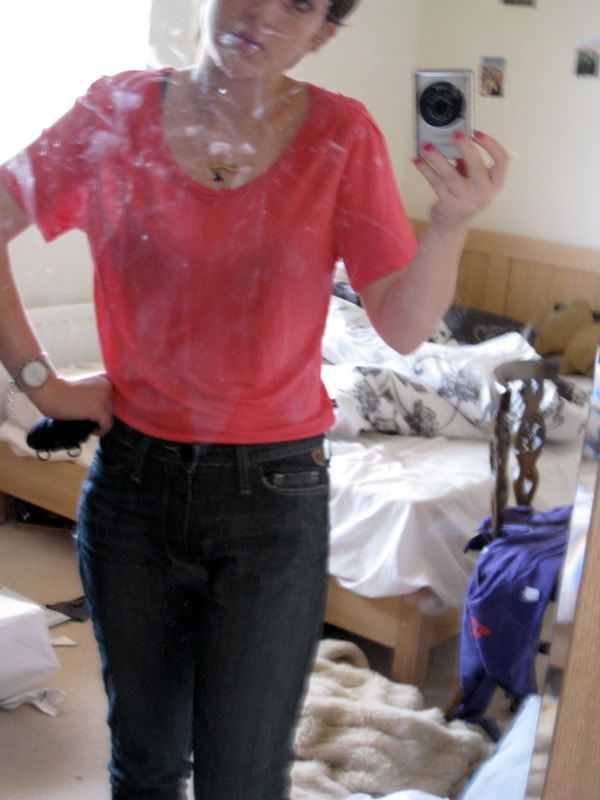 I wore this: to a fashion show meeting. The only thing I have bought this year is the coral T on sale from Reiss. I am so proud of my restraint, but so bored of not having anything new!
T shirt - Reiss
Jeans - Lois (Barcelona)
I wore this: printing off an essay in town and securing sound equipment for
KAPOW!
, which is my baby (first born, before fashion week took all my attention. K gets very jealous of OFW. I find him trying to tear up my OFW documents in an attempt of sabotage)
Blazer - Topshop
Leggings - Topshop
T shirt - My friends' band,
White Lies.
Scarf - Topshop
Necklace - Accessorize
Shoes - Kurt Geiger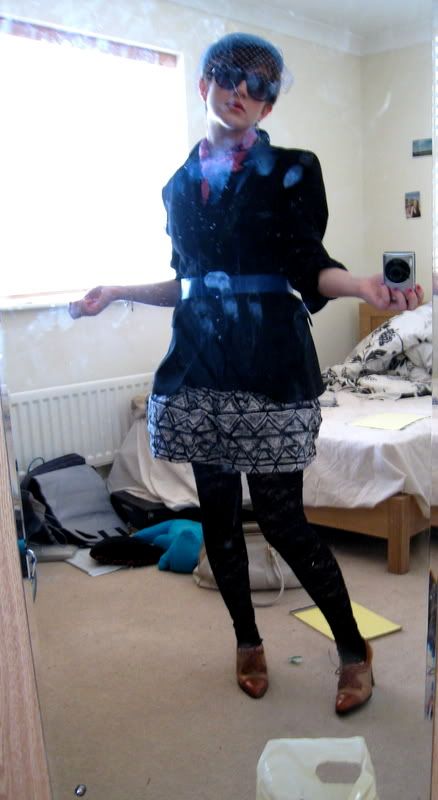 I wore this: to a tutorial and coffee with friends. I do like to dress up for my tutorials. The better the outfit, the better my tutors will think I am at the subject. Yes, definitely a direct correlation.
Jacket - stolen from housemate (Zara)
Hat - Vintage from The Ballroom
Scarf - Stolen from my mum
Sunglasses - Accessorize
Belt - came with a dress from ebay
Dress - PPQ at
Cocosa
Leggings - H & M
Shoes - Vintage from Istanbul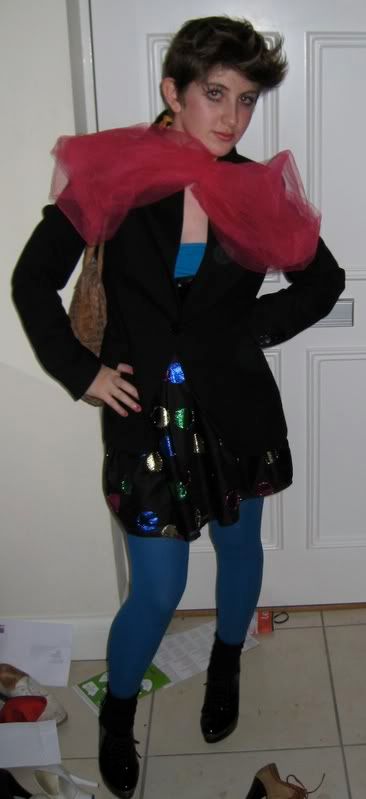 I wore this: out last night to Screwface. I think the fun of getting this outfit together really eclipsed the rest of the evening, which really went down the drain with some unnecessary bitching and music that I couldn't dance to. Might have been due to the shoes. Everything still a bit blurry.
Jacket - stolen from housemate.
Bow - Made myself.
Bikini top - American Apparel
Skirt - Topshop Unique
Shoes - Kurt Geiger