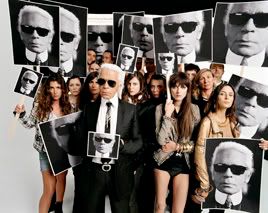 In keeping with my new resolution to take in all the cultural delights of London town, I took the opportunity to head over to The Photographer's Gallery this weekend for the "Fashion in the Mirror" exhibition. I went with both a fellow fashion-worshipper and a photographer to get a full range of critical opinions on the work, which was highly revealing. Fashionisto and I enjoyed looking at the pretty images - exuding the instant aesthetic appeal that we are both familiar with from devouring fashion magazines 24/7. What I really enjoyed were the older photos, such as the Norman Parkinson one above, as these were some of the first fashion images that depicted the photographer as well.
All good fun, until Photografisto pointed out that while the photos were good, but didn't really understand what it was getting at. This really got me thinking. The idea behind the exhibition was fashion photographs representing the process behind them: involving the photographer, camera equipment and so on. It was notable that all of the photographers who had included themselves in their pictures were men, and so had the added dimension of the masculine eye viewing the 'perfect' female form of the model. That's what i gleaned from it anyway, but the notable thing about the exhibition was that there was no direction as to what to think about the photos - they were merely laid out for the viewer to look at, as a consumer of fashion magazines might. I think because of this there was little inclination to look at the photos as anything other than aesthetically pleasing fashion photographs, especially due to the lack of supporting material, as
disneyrollergirl
complained in her review. Nonetheless, there were some interesting connections made between fashion's obsession with itself - such as Mario Testino's shot of a model dressed up as Anna Wintour, and the references made between different photos within the exhibition (the photo of Karl Lagerfeld and his entourage above is based on a similar image of Twiggy from the sixties.) Seeing as it was free, I didn't mind wandering around and drawing my own conclusions, but clarifying the ideas the curators wished to elicit from their viewers would have made it a more interesting experience all around.
As I was thinking about this post I realised there was a whole genre of fashion photography that is hugely reflective and almost always involves the photographer: bloggers' images of their own outfits.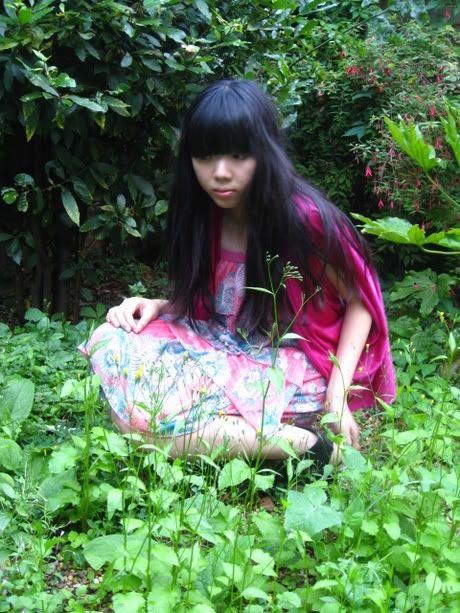 Although these are mostly shot in bad light conditions, in a mirror, and are not the most artistic of photos, there is a growing trend of more interesting, themed, editorial-style photos such as
this shoot
from Kingdom of Style and Susie Bubble's more recent shots like
this
.
p.s. posts involving pictures of yours truly on the way - hopefully of the KoS genre but more likely of the bad lighting, dusty mirror variety!