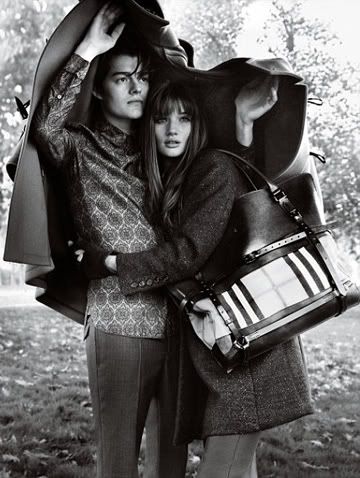 Ever since I saw Control(my favourite film of last year by a long shot...Simply Beautiful) I have had a slight love affair with Sam Riley in my head. It's a difficult relationship: I get jealous of his 'real' relationship with
Alexandra Maria Lara
(who plays Annick Honoré irritatingly well in Control to Riley's Ian Curtis), he works late nights (having to go to showbiz parties and the like), travelling back and forth from Berlin (where he lives - of course he does, my new favourite city, where else?). All in all, it's been a tricky love affair.
However, now I have truly reached the peak of my crush - these beautiful adverts for Burberry, shot by Mario Testino. Rosie Huntingdon-Whiteley, I am well and truly envious of you in these photos. Not because of your looks, clothes, hair or figure, but because of the beautiful man fawning over you in these photos. (Although,
rumour
has it that she's SO not good enough for him). If only the boy didn't look so damn good in a suit.