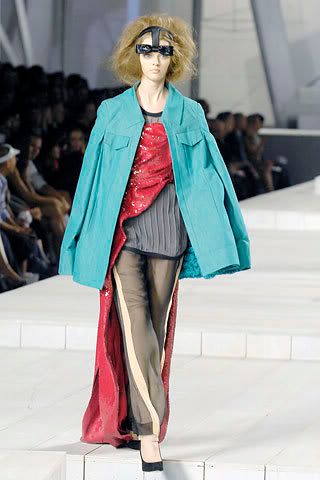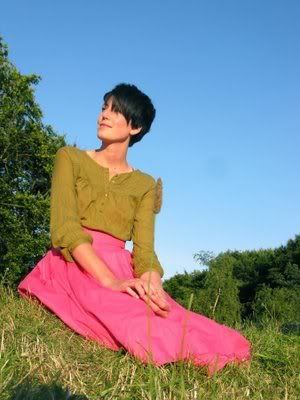 Top: Preen S/S 08, Marc Jacobs S/S 08, Marc Jacobs S/S 08 Bottom: Louis Vuitton S/S 08, Louis Vuitton S/S 08, Facehunter
Following on from my last post about fashion habits - here's another very bad habit of mine: an inability to buy into colours properly. (it makes my hideous nicotine habit pale into insignificance...)
My way of dealing with the constantly changing fashion trends has always been to keep everything: all the clothes that will still fit me, all the necklaces I can still wring around my neck and the heels i can jam my little feet into. This i count as one of my slightly more insane, but nonetheless useful habits. School satchels and checks, say you Luella? Well it's a good thing I kept my leather satchel from primary school and my dad's lumberjack shirt to chop up.
Black tantalising lace and tailoring, Prada? My makeshift version will be made out of scraps from my mum's material box and whatever boxy shirtiness is still left of her 80's wardrobe. The sheer range I have to choose from means I can approximate as much as possible what those with greater budgets than I can afford.
HOWEVER. All this comes to nothing if I never chose the right things in the first place, and my weakness is colours - i don't seem to own the right options to make it work! I've become obsessed with the idea of a really bright sherberty lemony limey greeny yumminess next to a very primary-to-creamy red.
Or how about a peachy salmony pink with a mid-to-light blue.
I am infatuated! These kind of striking colour combinations are always what catches my eye in the editorials, and I
have
to find a way to get this look for myself. So far I have unearthed an oversized highlighter yellow ralph lauren polo shirt that is begging for some creamy colour to modernise it...what will come next? I'll keep you posted.