Ooh! Check out this dress by Hannah Marshall, who is one of
Style.com's
Top ten picks for new designers this autumn. The styling of this photo in particular makes it look so luscious, n'est pas? The Mary-Kate Olsen hair and eyes, the fidgety hands and yet eyes that say exactly what that shoulder-piece says ("I will fight you to the death!").
It made me think of Cate Blanchett's dress for the Oscars last year by Giorgio Armani Prive, as well as that perennial style icon(?!), Joan of Arc.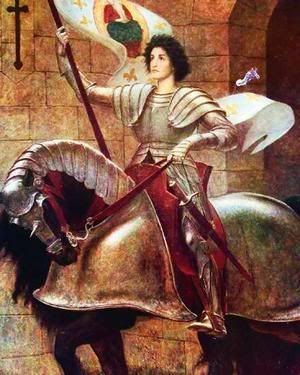 Dressing up is often compared to armour, arming ourselves for the world outside with the only means we have - self-expression. By making this explicit, I think this dress challenges the world to the duel, and, when you're dressed that fabulously, you're simply
bound
to win!